Now Available: A Garland of Forgotten Goddesses
---
---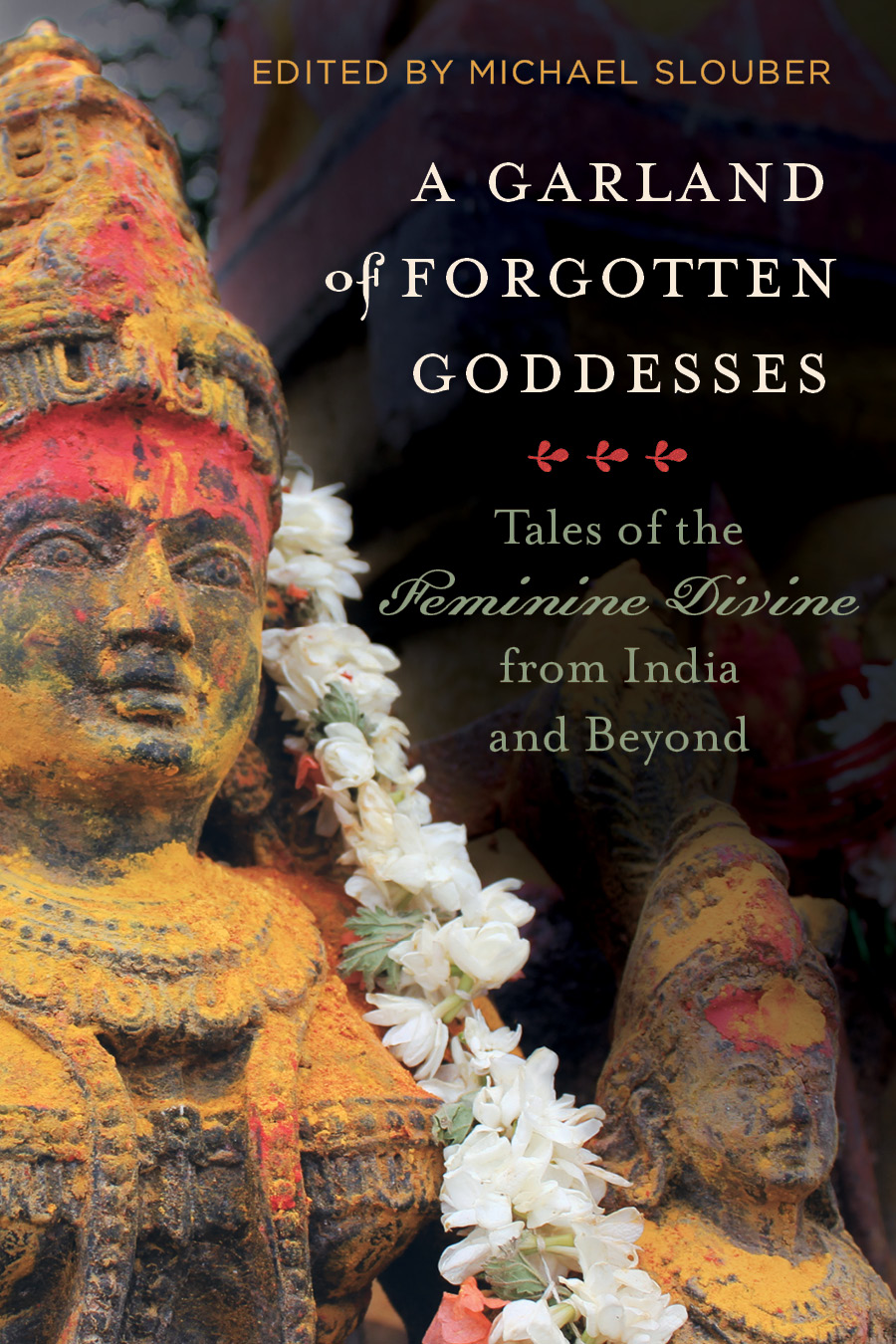 I am excited to report the publication of my edited collection of goddess stories, A Garland of Forgotten Goddesses: Tales of the Feminine Divine from India and Beyond (UC Press). It is the first anthology of stories about goddesses ever available in translation, and is designed as a resource for students and general readers who want to learn about Indian goddess traditions through direct translations of exciting and thought-provoking stories.
It is now available for order from the University of California Press or your favorite online bookseller, and can be ordered as paperback, ebook, and hardcover versions. Here is the cover description:
Imagining the divine as female is rare, even controversial, in most religions. Hinduism, by contrast, preserves a rich and continuous tradition of goddess worship. A Garland of Forgotten Goddesses captures the diversity of this tradition by bringing together a fresh array of captivating and largely overlooked Hindu goddess tales from different regions. As the first such anthology of goddess narratives in translation, it highlights a range of sources from ancient myths to modern lore. The goddesses in this book battle demons, perform miracles, and grant rare Tantric visions to their devotees. Each translation is paired with a short essay that explains the goddess's historical and social context, demonstrating the ways religion changes over time.
Here are the contents:
Preface
Introduction
I Demons and Battle
1. Bhadrakāḷī: Slaying the Demon in the Backwaters — Noor van Brussel
2. Cāmuṇḍi and Uttanahaḷḷi: Sisters of the Mysuru Hills — Caleb Simmons
3. Kauśikī: The Virgin Demon-Slayer — Judit Törzsök
4. The Seven Mothers: Origin Tales from Two Early-Medieval Purāṇas — Shaman Hatley
II Miracles and Devotees
5. Svasthānī: Goddess of One's Own Place — Jessica Vantine Birkenholtz
6 Kailā Devī: The Great Goddess as Local Avatar of Miracles — R. Jeremy Saul
7. Bahucarā Mātā: She Who Roams Widely — Darry Dinnell
8. Rāṣṭrasenā: Hawk Goddess of the Mewar Mountains — Adam Newman
III Tantras and Magic
9. Rangda in the Calon Arang: A Tale of Magic — Thomas M. Hunter and Ni Wayan Pasek Ariati
10. Tvaritā: The Swift Goddess — Michael Slouber
11. Kāmeśvarī: Visualizing the Goddess of Desire — Anna A. Golovkova
12. Avyapadeśyā: Indefinable Kālī — Olga Serbaeva
Glossary
List of Names (Deities and Characters)
Primary Sources
Bibliography
The book is available now through UC Press or various other online resellers like Amazon.